The best gifts are gifts that delivered with thought, love and make a difference to the person who is receiving them. With Christmas approaching, it can be difficult to get someone something special, but don't worry I'm here to help.
If you know someone who enjoys aromatherapy and using essential oils, these aromatherapy and essential oils Christmas gift ideas should give you more than enough options to get them the perfect gift they'll remember.
These gifts are also great for wedding gifts, housewarming gifts, birthday gifts, random gifts just to show someone you care, and any other occasion you can think of.
What counts is that you're gifting someone something they will enjoy and be able to use! Take a look through the list and see what you can find, and feel free to let me know if I've missed anything cool.
Aromatherapy and Essential Oil Christmas Gift Ideas
VicTsing Essential Oil Diffuser 300ml
Anyone who likes experimenting and using essential oils needs a diffuser. Diffusers allow you to spray essential oils around the home and enjoy the smell and healing properties.
I really like this model from VicTsing. It looks great and has all the key features the person receiving it is going to need – and then some!
The key features are:
300ml capacity 'bin'

Running time of 6-10 hours

Covers an area of approx 25-20 sq m

60, 120, 180-minute continuous modes of operation

7 different mood setting LED lights
I've used and reviewed quite a few awesome diffusers. Check my reviews of the Radha Diffuser here, and the Muji 11SS . Two popular models that are also perfect as gifts.
What I like about this model from VicTisng is the modern look and smooth feel. It'll be at home with any modern decor and doesn't stand out so it will only attract positive questions and interest.
The mood lighting is an added bonus too. I always use diffusers with mood lights to help set the mood along with the chosen oils. You can turn the lights off anyway if it's not for you.
In Car Essential Oil Diffuser – Little Alien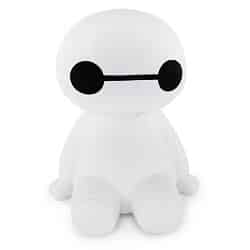 I always try to find qwerky gifts for people so I know they aren't getting something they've already got, and this little alien fits the bill perfectly.
It's an essential oil diffuser for use in cars, which is also a cool idea. If someone has a long commute or drives around a lot, this might be exactly what they need to keep calm in times of heavy traffic.
It actually holds 120ml of water so it will run for hours, all you have to do is twist his head off and top up with water and oil. It's small enough to sit on the dashboard or in one of the compartments on the dash or console.
My pick for essential oils to go along with this guy would be lavender or frankincense. These are great for lifting your mood if you have a long drive or are stuck in traffic.
A cool and interesting gift with practical uses, what more would someone want? 🙂
Edens Garden Synergy Blends Essential Oil Gift Set
Anyone who enjoys essential oils and aromatherapy can never have too many different oils, trust me.
This gift set from Edens Garden is the perfect festive gift box. There are six 10ml bottles of essential oils blends that the aromatherapy team at Edens Garden have put together.
Included are the following blends and what they are designed to help with:
Hope – A mixture of Cassia, Lemongrass, Rosemary, Sweet Orange, and Tangerine. Perfect for promoting strength, comfort, and of course – hope.
Breathe Easier – A mixture of Eucalyptus, Lemon, Peppermint, and Rosemary. This blend will help keep the winter bugs and sinus issues away. As well as opening your airways and helping you breathe easier.
Good Night – A mixture of Chamomile, Clary Sage, Copaiba, Lavender, Peru Balsam, Sandalwood, Sweet Marjoram, and Ylang Ylang. Promotes better sleep and relaxation, has a lovely aroma.
Relaxation – A mixture of Chamomile, Geranium, Lavender, Mandarin, Sweet Marjoram, and Patchouli. Used to relieve stress and tensions, perfect as a holiday gift, who doesn't like relaxing!
Stress Relief – A mixture of Bergamot, Blood Orange, Grapefruit, Patchouli, and Ylang ylang. As the name suggests, this is stress relieving blend, might come in handy over the holidays!
Sunshine Spice – A mixture of Balsam, Camphor, Cinnamon Bark, Cinnamon Leaf, Eucalyptus, and Sweet Orange. A powerful peppery, spicy, and citrusy aroma that will lift your mood no matter how down you're feeling.
Carrier Oils Gift Set – Gio Naturals
If you're going to use essential oils topically (this means applying to skin) you need to dilute them with carrier oils for safety reasons.
This gift set of carrier oils fro Gio Naturals is the best way to get a selection of the most popular carrier oils, and they come wrapped up in a gift box which saves you a job.
Inside the box there are the following carrier oils:
Castor Oil – Typically used for blends to treat hair loss and skin conditions.
Argan Oil – Has a lovely scent and leaves skin looking and feeling moisturized and soft.
Tamanu Oil – One of the best oils to help treat skin conditions, there are endless blends you can make with essential oils to improve the look and feel of skin with this one.
Jojoba Oil – This carrier is great for improving hair, also makes all kinds of massage oils blends.
Essential Oils Book – Beginners Guide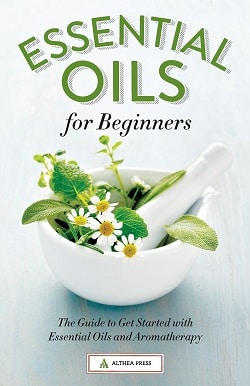 A book always makes for a thoughtful gift and comes in handy with essential oils as there is a lot of information for newbies to take in and it's good to have something to reference to hand.
I bought this book for a friend. It's a New York Times Bestseller, so pretty high acclaim for a book in the niche of essential oils.
There are more than 85 recipes covering everything from helping with skin conditions to choosing the best essential oils for meditating or clearing sinuses.
This is a good way to nudge someone if it's you who likes essential oils and you're trying to get friends involved too. Sounds a bit selfish, but they'll thank you once they get the essential oil bug!
Aromatherapy Essential Oil Necklace Pendant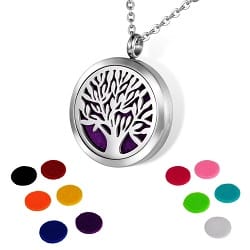 Aromatherapy jewelry has exploded in popularity and there are now loads of cool items to choose from that function perfectly as an essential oil diffuser of sorts, and looks cool stylish to wear.

I actually noticed someone wearing this exact item and asked where they got it from. They sell them over on Amazon as you'll see by clicking the link below.
If you're new to essential oil pendants I explained how they work here. Basically, you add a couple of drops of oil to the tabs and lock them in the necklace.
It combines jewelry with essential oils. What better gift for a girlfriend, right?
Aromatherapy Essential Oil Bracelet with Pouch
If the person you're buying for isn't the necklace wearing type – how about these trendy leather bracelets?
They aren't just leather because it's soft on the skin and looks good. Leather holds the scent of essential oils, all you need to do is add some drops to the bracelet and enjoy the scent all day.
They come in their own gift packaging, so if you're like me and prefer skipping the wrapping and trying to make a gift look good part, it's a bonus.
They are also available in kids and adults sizes, so it's an option for friends and family of all ages.
Fractionated Coconut Oil from 

doTERRA
I'm a fan of doTERRA products, they make a wide range of quality essential oils, diffusers, and loads of other aromatherapy accessories.
One of their best and most versatile products is their Fractionated Coconut Oil. This carrier oil has formed the base for my massage oil blends for longer than I can remember and I don't have a bad thing to say about it.
I recommend pushing out and buying this if you know someone wants a good carrier oil. There are less expensive options, but this oil is really easy to work with and a lot less greasy that some of the cheaper products I've used.
It's a 3.8oz bottle and has a long shelf-life so it represents good value. Can't go wrong with this coconut carrier oil.
Amber Glass Roll-on Bottles with Roller Balls
If you're making your own blends and experimenting with essential oils you need somewhere to store the blends.
An often forgotten about accessory are roller bottles. With these little bottles, you can store and use your blends by rolling them onto your skin, clothes, or wherever else you want to apply them.
Who knows, the person you gift these too might start labeling and packaging their blends and start a business selling them with these professional looking roller bottles.
At the very least you should give you one back with some essential oils in, right?
Essential Oil Storage Box
If you know someone already has a lot of oils then maybe a storage box is a better choice as a gift idea.
This one is made from wood so it's strong secure. It has separate compartments for each bottle, so no annoying rattling if they take the box with them somewhere.
It has 25 slots and holds 5ml, 10ml, and 15ml bottles so it has all sizes covered. You can even load some of the roller bottles from above in there as an added bonus.
The labels are a nice touch too. Allows the person to color code and label up all their bottles so they can see which is which at a glance.
A great product and an even better gift idea that I'm sure will go down well with any aromatherapy lover.
Essential Oil Pocket-Size Keychain Carry Case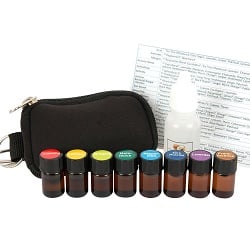 I remember having something very similar to this when I first started using essential oils as I always wanted to have some handy to show and talk about with others.
This keychain from Davina is just small enough to carry around easily, and large enough to include all the following essential oils:
Lemon

Peppermint

Oregano

Melaleuca

Body Armor (blend), and

Sore Muscle (blend)
They are quality,  100% pure therapeutic grade oils too, so the real deal. The bottles are 2ml size so I'd estimate you can expect around 50 drops from each.
There is even a bottle of carrier coconut oil so you can make topical blends and have a quick massage oil should the need arise. Pretty cool.
Great for beginners and experienced essential oil enthusiasts alike. A nice thoughtful gift that will put a smile on someones face, and that's the idea here.
In Summary
Hopefully, I've saved you a lot of time and the headache of finding some cool and interesting gifts for your friends and family members who are into aromatherapy (or soon will be!)
I love experimenting with different oils and my collection keeps on growing. With hundreds of different oils and endless wellness applications, it's a lifestyle hobby that never stops giving back.
If you have any other gift ideas you think I should include just drop me a note below and I'll take a look and add it to the list to help others. Thanks.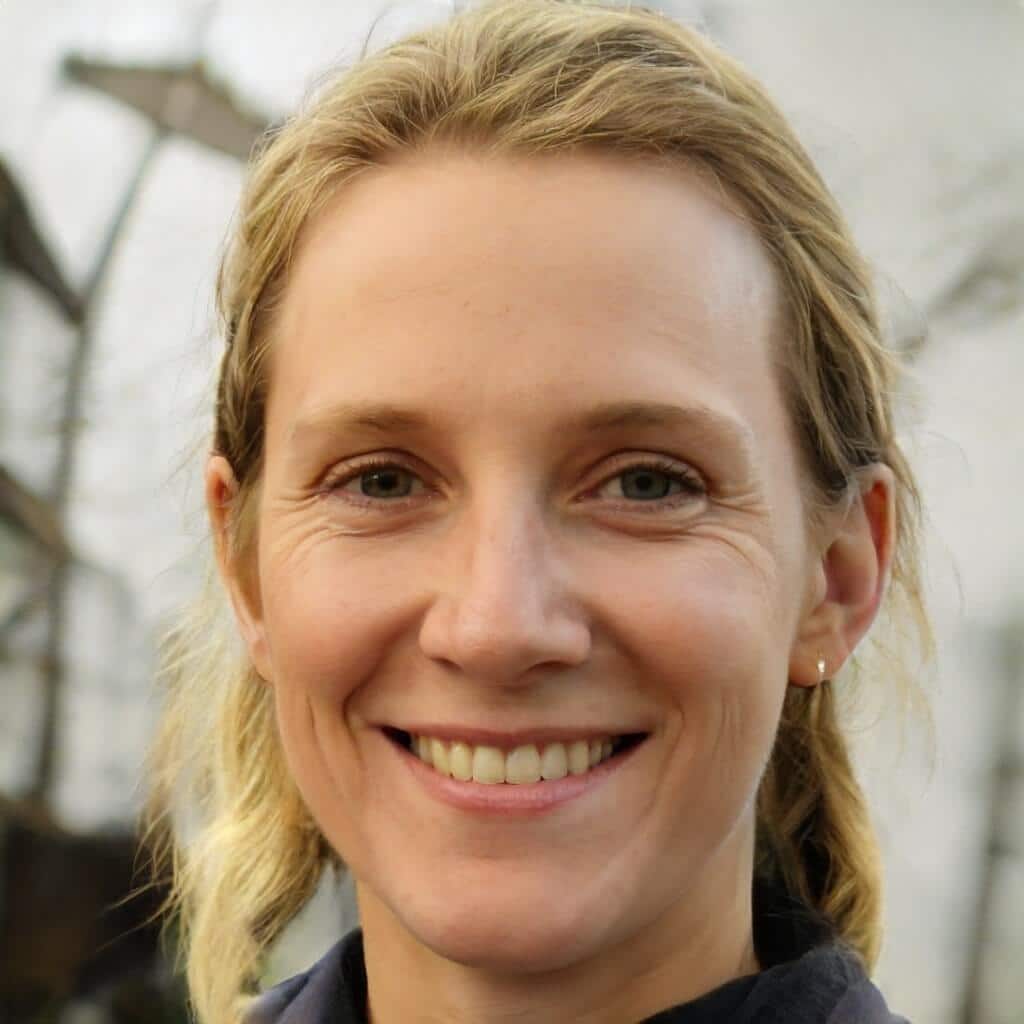 I'm a MA, (CMT) Certified Massage Therapist, Licensed Massage Therapist (LMT), and Reiki Master —  I'm a licensed massage therapist with over 10 years of experience in the industry.