You may not have heard of Dill weed essential oil as it's not one of the more popular oils. In this article however, I'm going to take you through the dill essential oil benefits and uses and I think, or rather I know, you're going to be pleasantly surprised.
Some Background Information on Dill Essential Oil
The plants from which the pure dill oil is extracted can grow up to three feet tall. The yellow flowers that grow on the plant are what contains the small seeds that produce the oil and is extracted by means of still distillation.
The essential oil is made from partly dried or fresh dill. It is commonly known as Indian dill and is a herb that is native to Southwest Asia but can also be found in the Scandinavian and Mediterranean Regions.
It is widely grown in the regions of Asia, North Africa, and other tropical regions. The dill oil has a strong pungent flavor, a watery consistency, and a grassy smell. It has been used medicinally for thousands of years.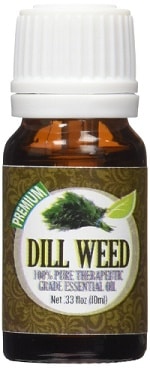 Click here to see this oil on Amazon.
Dill Essential Oil Benefits and Uses
Helps with Allergies
If you have oral inflammation in your mouth and throat due to allergies dill essential oil can help. In the oil there are flavonoids and monoterpenes that can help to cleanse your respiratory system.
Dill essential oil also has antihistamine properties. To do this you would add a couple of drops of the oil in a vaporizer or other form of steam inhalation. When you inhale this medicated aroma it will help to alleviate respiratory infections.
Helps Reduce Inflammation and Reduce Pain
Using dill essential oil will help to fight against inflammation. Like when you have an aggravated kappa dosha. This governs all the lubrication and structures of your body including lubrication for your lungs and joints and can cause inflammation.
It can even be responsible for the inflammation in your lungs when you have allergies. To help with the inflammation in your joints you just need to massage your joints with one milliliter of olive oil and two drops of dill essential oil to help lessen the pain and swelling.
Antispasmodic Properties Reduce Muscle Spasms
Spasms are episodes of abnormal and unwanted contractions. They can occur in your nerves, respiratory tracts, muscles, or intestines. They can manifest themselves as hiccups, convulsions, coughs, muscles pulls, cramps, or even epileptic attacks, and can be non-stop.
An example of an extreme case is when a person becomes out of breath with some bouts of hiccups and coughs or has sharp pains in their intestines and could even collapse. Using dill essential oil can help to pacify these spasms.
It appears to have a soothing effect on your intestines, muscles, respiratory system and nerves. For your muscles massage it into the sore muscles as you would for inflammation. You could also try inhaling it using steam inhalation or a vaporizer.
Antihyperlipidemic Agents Are Good for Your Blood
This medical term means "to promote a reduction of lipid levels in your body" and a recent study has shown that dill essential oil has an effect on this medical condition along with having anti-hypercholesterolemic effects. Antihypercholesterolemic means "being effective against elevated serum cholesterol levels".
Using dill essential oil will help to fight against hyperlipidemia, which is an increased level of cholesterol. To help with this condition you can massage your body using a mixture of three milliliters of coconut oil with six drops of dill essential oil. After the massage take a hot bath to which two drops of the oil has been added.
Reducing Bloating and Gas
When you use dill essential oil it can help your body take care of gas trouble. It can help prevent gas formation in your intestines and aid in the expulsion of this gas. By relaxing the stomach muscles, it gives the gas a safe passage out of your body.
Protects Skin with Disinfectant Properties
To keep microbes from causing an infection in food add in some dill essential oil. When it is added to food it cures infections from the microbes in your genitals, colon, kidneys, and urinary tract.
If you apply it externally it will help to protect your wounds and skin from infections along with helping wounds heal faster. When it is diluted it can be applied to your scalp to help protect your hair from different infections like lice.
Acts as a Digestive Aid
For thousands of years, dill seeds were used as a remedy to aid digestion. The dill essential oil comes from these same seeds and helps to promote digestion using the discharge of digestive juices in your stomach, like acids, bile, and gastric juices.
The aroma of this essential oil can also stimulate the salivary glands and helps aid in the digestion of food in your mouth. Dill essential oil also stimulates the movement of your intestines to help the food to advance through your intestines. This facilitates digestion helping to prevent conditions like piles and constipation.
To help treat flatulence, constipation, hiccups, diarrhea, and dysentery, add two drops of the oil to one milliliter of sesame oil and massage it gently on your abdomen. For infants only use one drop of the oil with two milliliters of sesame oil. Gently massage it in a circular motion on their stomach for those same conditions.
For relieving digestive disorders, you can add one to two drops of the oil in your warm bath.
Calming Properties Help You Relax and Sleep Better
This oil has beneficial calming and sedating effects on your brain and nerves, leaving you feeling relaxed. The calming, soothing effects of group B vitamins and flavonoids helps in regulating the secretion of enzymes and hormones in your body.
It is recommended for people who are suffering from nervous disorders and insomnia. It helps you get a good night's sleep, helping to get rid of tension, anxiety, depression, hypertension, and anger.
Before going to bed add two drops of essential oil in your burner, diffuser, or vaporizer to give you a peaceful sleep.
Soothes and Helps with Stomach Issues
This is an agent that helps to keep the stomach toned, functioning properly, and healthy. When you use dill essential oil it will help regulate the secretion of bile and digestive juices. Keeping your stomach in a healthier shape. Also helping in the healing process of wounds, and ulcers, and help keep your stomach safe from infection.
Helps You to Sweat Naturally
Dill essential oil can cause sweating. This creates a sensation of lightness to your body. The essential oil will also help to get rid of excess toxic substances, water, and salt from your body.
Resulting in a reduction of swelling, lowering your blood pressure, and protection of overall health of your skin.
Weight Loss and Sugar Cravings
Dill essential oil is also used to reduce sugar cravings. It's good at suppressing appetite and is one of the oils that can be used as part of an overall weight loss program. If you can curb your sugar cravings you will be less interested in sugary, high fat foods.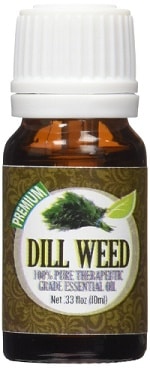 Click here to see this oil on Amazon.
Dill Essential Oil Blends Well With
Dill blends really well with citrus oils, allowing to make a more potent blend that carries all the health benefits of citrus along with the dill. Try blending with:
Ways to Use Dill Essential Oil
Here are three suggested methods of use:
Topical Use – Always test a small area first to check for any sensitivity or allergies. Then mix with a carrier oil like fractionated coconut oil and apply to the desired area.
Diffusing – Dill is a great oil to diffuse around the home. Especially if you're treating muscle spasms or cramps. You can get yourself comfortable, relax, and diffuse the oil.
Check out my review of the Radha Beauty Diffuser if you need a diffuser.
Inhale Directly – If you don't have a diffuser you don't feel like it's strong enough try adding a couple of drops to your pillow. Keeping the bottle on you to sniff, or adding a couple of drops to a cloth to carry with you.
Dill Essential Oil Side Effects and Precautions
There are no real side effects to this oil when used correctly and as recommended on the bottle. Always use a good quality oil as recommended here to make sure you're getting a pure oil. Some cheaper oils contain other ingredients that may cause irritation.
Don't use dill directly on the skin undiluted unless directed to by a professional. Always dilute with a carrier oil when using topically too. Some people may have a sensitivity to oils, so always check on a small area of skin first.
As always, oils are not recommended for women who are pregnant or breastfeeding. If you experience any reactions nor ill-effects, always contact your doctor immediately.
In Summary
Dill weed essential oil was a great little find for me. It's rarely spoken about in the places I always discuss oils. Yet it's commonly used by professional aromatherapists because it's so versatile and has all the health benefits as discussed above.
Certainly, one to try and keep in your collection. Give it a go and let me know what you think, I'd love to hear from you.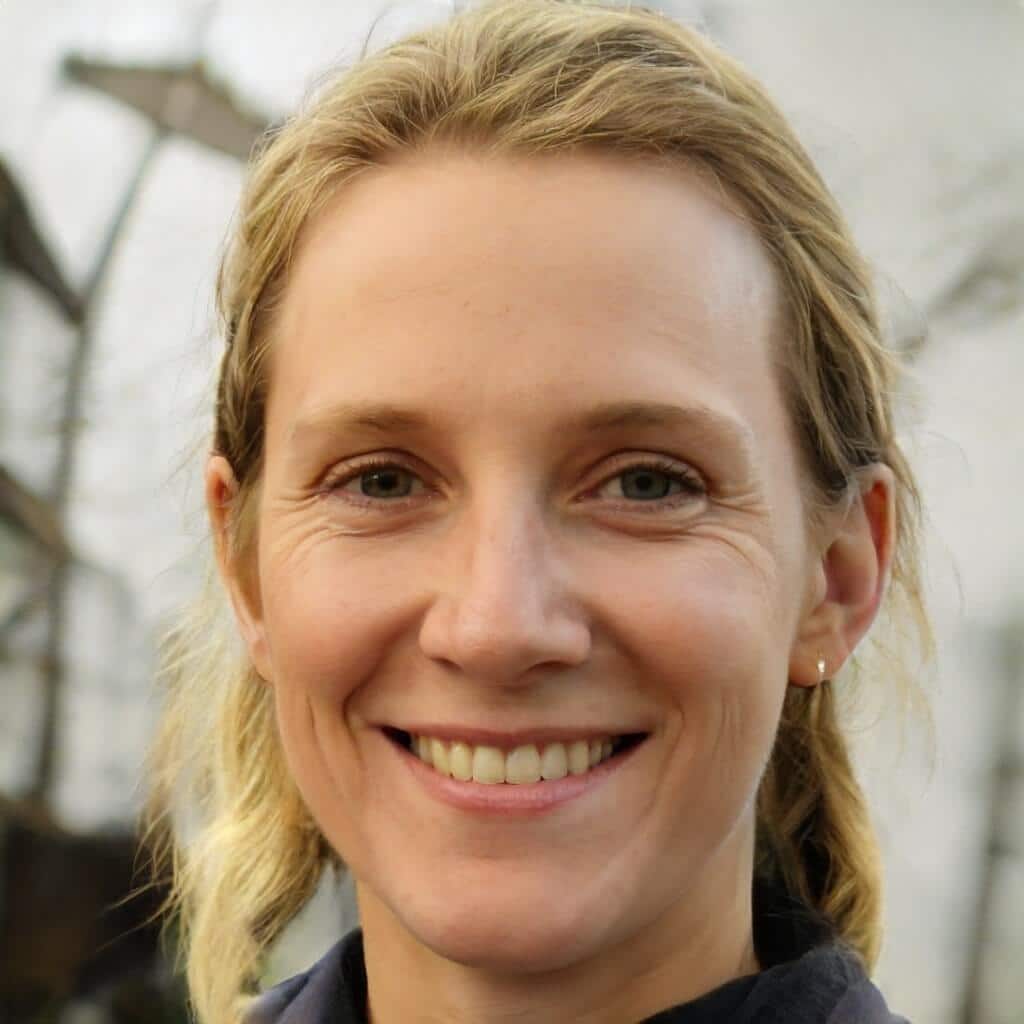 I'm a MA, (CMT) Certified Massage Therapist, Licensed Massage Therapist (LMT), and Reiki Master —  I'm a licensed massage therapist with over 10 years of experience in the industry.