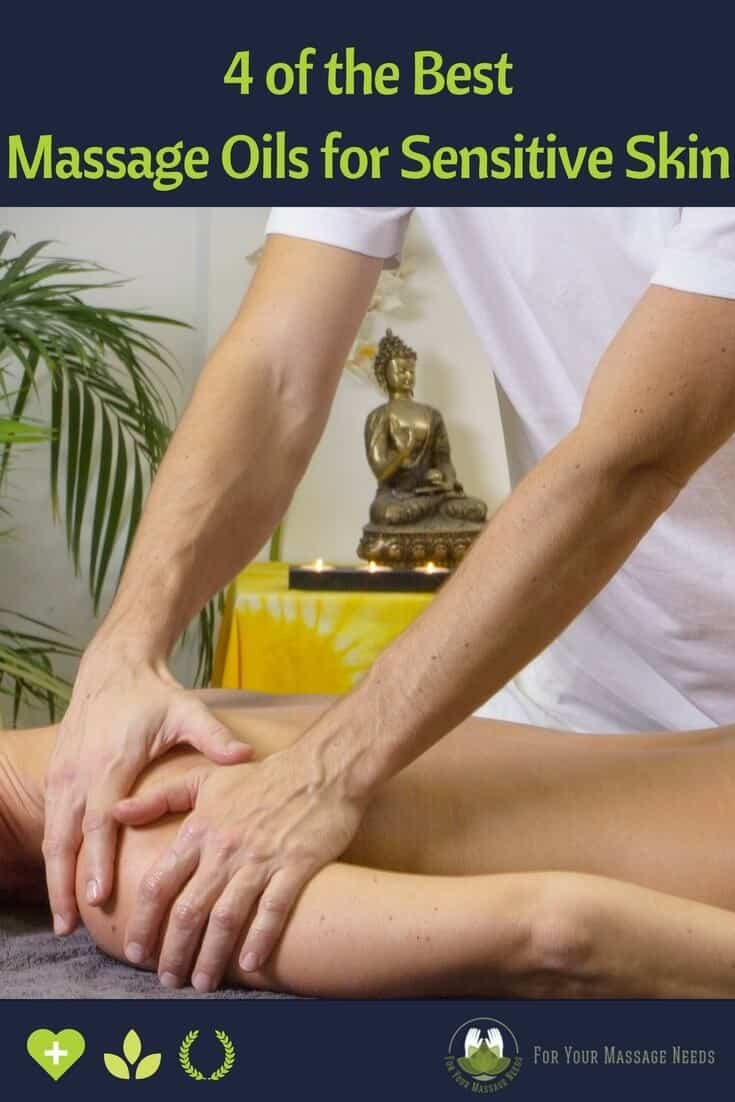 If you or your clients have sensitive skin it's important you choose massage oils carefully so as not to cause any irritation.
Everyone reacts differently to different oils and the ingredients in the oils. Typically, the best massage oils for sensitive skin will be hypoallergenic, unscented, and specially formulated for people with sensitive skin.
Even then it's still good practice to test the oil on a small area of skin before using it on other areas until you're sure the person you are using the oil on doesn't have any reaction to the oil.
With this in mind, here are 4 of the best hypoallergenic and natural massage oils on the market. Along with what to look out for if you're shopping around for other oils for sensitive skin:
4 of the Best Massage Oils for Sensitive Skin
100% Pure Unscented Coconut Oil for Sensitive and Dry Skin
I love coconut based carrier oils. Coconut oil is rich in vitamins, MCTs, antioxidants, and loads of other goodness that leaves skin feeling and looking healthy.
I've always found it great to work with as a carrier oil. This one from Honeydew is great as a base or you can use it on its own if your client has sensitive skin.
It's 100% pure, therapeutic grade, great for professional or personal use, and has a non-greasy, non-sticky texture which is important for any massage oil.
Should be fine for clients with skin sensitivities and allergies. Use without mixing first, or test a small area when mixing with an essential oil to err on the side of caution.
Click here to see this massage oil on Amazon
100% Natural Fractionated Coconut Oil for Sensitive and Dry Skin
I've covered the benefits of fractionated coconut carrier oils before. If you work as a massage therapist I'm sure you're very familiar with working with coconut carrier oils.
For those new to fractionated coconut oil, it's great for hydrating skin as it's rich vitamins, contains lauric acid, and saturated fats.
The result is that it's easy to work with, provides a wonderfully smooth and grease-free massage, and leaves skin looking and feeling vibrant and nourished.
It's odor-free and color-free so hopefully, you can avoid some messy stains on your couch and blankets, and has a long shelf life representing great value for money.
Click here to see this massage oil on Amazon
Hemp and Avocado Hypoallergenic Massage Oil for Sensitive Skin
I've included this oil because first of all, it's a hypoallergenic massage oil so it should be fine for all types of sensitive skin.
It's made with 100% elements, is odor-free, doesn't have any chemical additives, and a non-greasy formula so it delivers on what you want when working with a massage oil.
Secondly, it has an interesting blend of cold-pressed hemp oil, avocado oil, grape seed oil, jojoba oil, and meadowfoam seed oil.
The result is a unique blend of vitamins, essential fatty acids, and other properties that gives skin an incredibly nourishing and rejuvenating experience. Totally recommend this oil.
Click here to see this oil on Amazon
Victoria's Lavender Natural Hypoallergenic Massage Oil for Sensitive Skin
Readers of my blog will know all too well how much I love lavender oil. Check my posts about the benefits of lavender oil or how to use it to promote better sleep if you're interested.
This massage oil is a great choice for people with sensitive skin. Lavender essential oil is used to treat sensitive skin, so combined with a hypoallergenic carrier should be fine for most people.
This oil has grapeseed oil, apricot kernel oil, coconut oil, meadowfoam seed oil, and lavender essential oil in it, which gives it a lovely collection of vitamins and wellness properties.
This should be your goto oil for anyone, or yourself, who wants a relaxing, therapeutic massage that'll really help those sore muscles recover and help you unwind and sleep better.
Click here to see this massage oil on Amazon
Are Hypoallergenic Massage Oils Safe for Sensitive Skin?
When an oil is labeled as hypoallergenic it does mean that it's better for people with allergies, sensitive skin, and other conditions that are aggravated by certain ingredients.
It doesn't mean there is 100% certainty that the oils will not cause any sensitivity for everyone however. So you still need to test the oils first to be sure.
When a product is labeled as 'hypoallergenic,' it means that the product has been put through some testing, and no ingredients that are known to cause allergies were used in the making or finished product.
There are no firm rules governing what can or can't be called hypoallergenic though as far as I can tell. So each company will have their own definition and carry out their own testing.
What I do when looking for massage oils for use on sensitive skin is look at the ingredients used in the oil and make sure I'm aware of everything that's in it.
If any clients have a sensitivity to a certain ingredient I will then know if it's in the oil. So, choosing oils with fewer ingredients, natural ingredients, and labeled as hypoallergenic are the best choices.