Picking gifts for friends and loved ones can be a little stressful. If you know what hobbies and interests the person has it gets a little easier, and if you know they love essential oils it gets really easy (if you read this post!).
I've included some of the best gifts for essential oil lovers in this post. There are more than enough gift ideas to find something special. Even if you think the person already has most essential oil accessories like I do.
One of the wonderful things about essential oils is that there are more oils and blends to make than we can ever try. So you will be able to find a new oil I'm sure. If not, maybe a cool diffuser, storage box, carry case, or something else that makes for an awesome gift.
Gifts for Essential Oil Lovers
Essential Oil Diffuser for Cars – Cool Alien Design
Look at this cute looking little guy. You can't tell at first glance, but this is a small essential oil diffuser, but it's capable of holding 120ml of water so it has a long run time.
Diffusers are one of the easiest ways to use essential oils. They diffuse the oils mixed with a little water into the air and allow you to absorb the wellness benefits.
It can get stressful and tiring on the road and diffusers can make your journey a lot more enjoyable.
Try adding doTERRA Invigorate to give you a mental boost, or some lavender to calm you down and relieve the stress from sitting in traffic.
You can use it around the home or office, but it's perfect for use in the car because it's small and has a USB cable that you can plug into the socket in your car.
It's really easy to use, just twist the head off (sounds painful!) and fill with water to the max line. Add a couple of drops of essential oil, replace the head so there are no spillages, and then click the alien's eye once for continual diffusion or twice for intermittent.
VicTsing Essential Oil Diffuser 300ml
While the previous diffuser is more of a unique and interesting diffuser.
If you want a modern looking, stylish diffuser then this one from VicTsing is all of that and more.
The key features are:
300ml water tank

6-10 hour running time

25-20 sq m area coverage

60, 120, 180, and continuous operation modes

7 soothing LED mood lights

Spray quantity of 30-50ml/h
The main reason this is a popular model is it's sleek and modern look. It fits in with any contemporary decor and the wood finish looks and feels nice and smooth.
The mood lighting really makes a difference to your mood and feelings while diffusing. This model has it all so if you're trying to impress – it's the perfect gift for any essential oil users.
Aromatherapy Essential Oil Necklace Pendant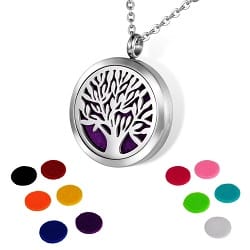 Aromatherapy jewelry has become really popular over the last couple of years.
I have a necklace and a bracelet and because some of the jewelry pieces are so well designed I'm going to be buying more over Christmas I'm sure.
This necklace from Housweety is a really cool design with a tree and comes with 11 different color refill pads so you can choose which color to use to match what you're wearing or your other jewelry.
The pendant locks shut with a strong magnet. All you need to do is put a couple of drops of your favorite essential oil on the pad and place it inside the pendant. Close it up and you will be able to enjoy the aroma all day.
This item makes a perfect gift as it's jewelry, and every woman likes jewelry! It's also a way to use essential oils throughout the day. Win-win.
Aromatherapy Essential Oil Bracelet with Pouch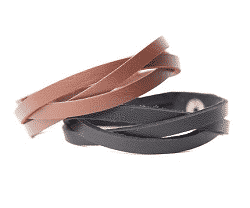 These leather essential oil bracelets come in nice looking gift bags, a bonus if you're buying as a gift.
They are available in both kids or adult sizes, so you can gift them to anyone of any age.
The leather not only looks great, it looks better with age and provides the surface for the oils. Just add a couple of drops to the leather and you're ready to go.
There are metal bracelets available, but what I like about leather ones is that they always seem to fit and feel better. These are ideal for people who are active and enjoy the scent of oils throughout the day.
Edens Garden Synergy Blends Essential Oil Gift Set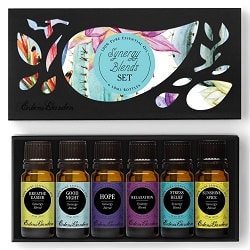 Essential oil lovers can never have too many essential oils! This gift set from Edens Garden includes 6 x 10ml bottles of essential oil blends.
Each oil is one of their formulated blends that have been crafted by their aromatherapists and helps with particular wellness issues as follows:
Hope – A mixture of Cassia, Lemongrass, Rosemary, Sweet Orange, and Tangerine. Perfect for promoting strength, comfort, and of course – hope.
Breathe Easier – A mixture of Eucalyptus, Lemon, Peppermint, and Rosemary. This blend will help keep the winter bugs and sinus issues away. As well as opening your airways and helping you breathe easier.
Good Night – A mixture of Chamomile, Clary Sage, Copaiba, Lavender, Peru Balsam, Sandalwood, Sweet Marjoram, and Ylang Ylang. Promotes better sleep and relaxation, has a lovely aroma.
Relaxation – A mixture of Chamomile, Geranium, Lavender, Mandarin, Sweet Marjoram, and Patchouli. Used to relieve stress and tensions, perfect as a holiday gift, who doesn't like relaxing!
Stress Relief – A mixture of Bergamot, Blood Orange, Grapefruit, Patchouli, and Ylang ylang. As the name suggests, this is stress relieving blend, might come in handy over the holidays!
Sunshine Spice – A mixture of Balsam, Camphor, Cinnamon Bark, Cinnamon Leaf, Eucalyptus, and Sweet Orange. A powerful peppery, spicy, and citrusy aroma that will lift your mood no matter how down you're feeling.
Essential Oils for Beginners Guide – Kindle and Paperback Books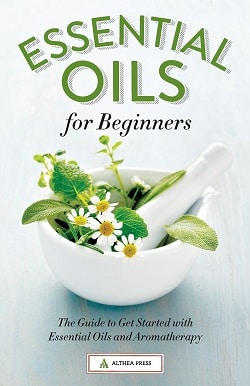 If the person you're buying for is experimenting with oils and enjoy a spot of reading why not pick up a book covering everything they could need to know about essential oils.
This book by Althea Press is a New York Times Bestseller and takes you through everything you need to know about blending, mixing, and using essential oils.
There are over 85 recipes. You will find a wellness recipe for just about any ailment, I bet the recipient of the book is putting together blends for all their friends and family in no time.
It's a great gift idea because it keeps on giving. You may get them oils they already have, or they have a diffuser, it's unlikely they have this book.
25 Slot Essential Oil Storage Box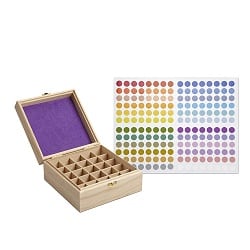 If the person you're buying for has a lot of oils there is no better way to get everything in order than a storage box.
This one has 25 slots, and holds 5ml, 10ml, and 15ml bottles so it should hold all their bottles.
It's lightweight but still made from wood so it's going to last a long time if looked after properly.
I use a similar storage box and the best thing is there is no rattling of the bottles, which is a noise that gets irritating I'm sure you'll agree.
It also comes with some multi-colored labels so even the most orderly people will be happy as they can color code their oils.
An excellent all round storage box and an excellent gift idea. Whether it's to be used for storing around the home or traveling with, this box ticks all the boxes.
Essential Oil Keychain Pocket Doctor Carry Case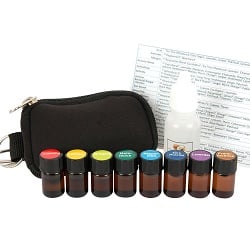 I was bought a keychain essential oil carry case when I first started using essential oils.
I took it everywhere with me and can confirm that they make for awesome gifts!
This one is from Davina and includes the following essential oils:
Lemon

Peppermint

Oregano

Melaleuca

Body Armor (blend), and

Sore Muscle (blend)
They are all 100% pure therapeutic grade oils and are small 2ml bottles that will give out around 50 drops.
There is also a 15ml bottle of fractionated coconut oil to allow to make topical applications on the move, and an information card with loads of information about which oils to use for which ailments.
It's a perfect starter kit, ideal for someone just starting out with oils or a complete beginner. The keychain means it can be attached it to keys, purse, in a car, it never needs to be far from your side.
Carrier Oils Gift Set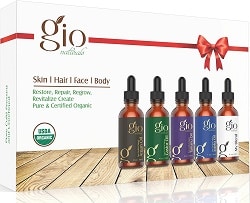 Anyone who uses essential oils will need carrier oils. Carrier oils dilute essential oils making them safe for use topically, making blends, and massage oils.
This gift set from Gio Naturals has it all, there are four high-quality, organic carrier oils as follows:
Castor Oil – Great for hair loss when used on its own and making blends.
Argan Oil – Gives skin a lovely look and feeling, blends with essential oils to make a massage oil.
Tamanu Oil – Tamanu is used to treat a wide range of skin conditions. Making a blend with oils that also treat skin conditions opens up some options for powerful blends.
Jojoba Oil – Gives hair a lovely shine. Commonly used with essential oils to dilute and reduce skin sensitivity.
doTERRA Fractionated Coconut Oil
If you want to buy a brand that people know well in the aromatherapy and essential oil world then doTERRA is what you want.
They make some of the highest quality products so they are gifts that will be well received. Fractionated coconut oil is used as a carrier with essential oils, it's absorbing, light, and non-greasy.
It's only an excellent moisturizer used on its own, I recommend picking up a bottle for yourself if you're buying one – you won't be disappointed.
A 3.8oz bottle like the one here will last a long time too, so it's a gift that will keep on giving for many months.
Amber Glass Roll-on Bottles with Roller Balls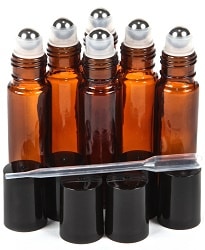 As soon as you start experimenting with essential oils and making blends, you need somewhere to store the blends.
This is where roll-on bottles with roller balls come into use. They are exactly the same as you've seen products you bought supplied in, just empty ones for you to use.
It's a gift that potentially saves the person a lot of time and money being able to store their oils, so it's going to be well-received.
Who knows, they may even make a nice blend, put it in a bottle, and gift it back to you. 🙂
In Summary
I hope you can now see that buying gifts for essential oil lovers is easy when you're looking in the right place. There are plenty of gift ideas here, and you can find dozens more similar items once you start looking into these.
If it's you that use essential oils, why not buy the starter kit for a friend and introduce them to the wonderful world of aromatherapy. Or, maybe use this list to give friends and family some ideas for what to buy you.
Either way, I hope you get all you want and more during the holidays, and pick up gifts that are well received. Remember, gifts with a personal touch and some thought mean so much more to the recipient.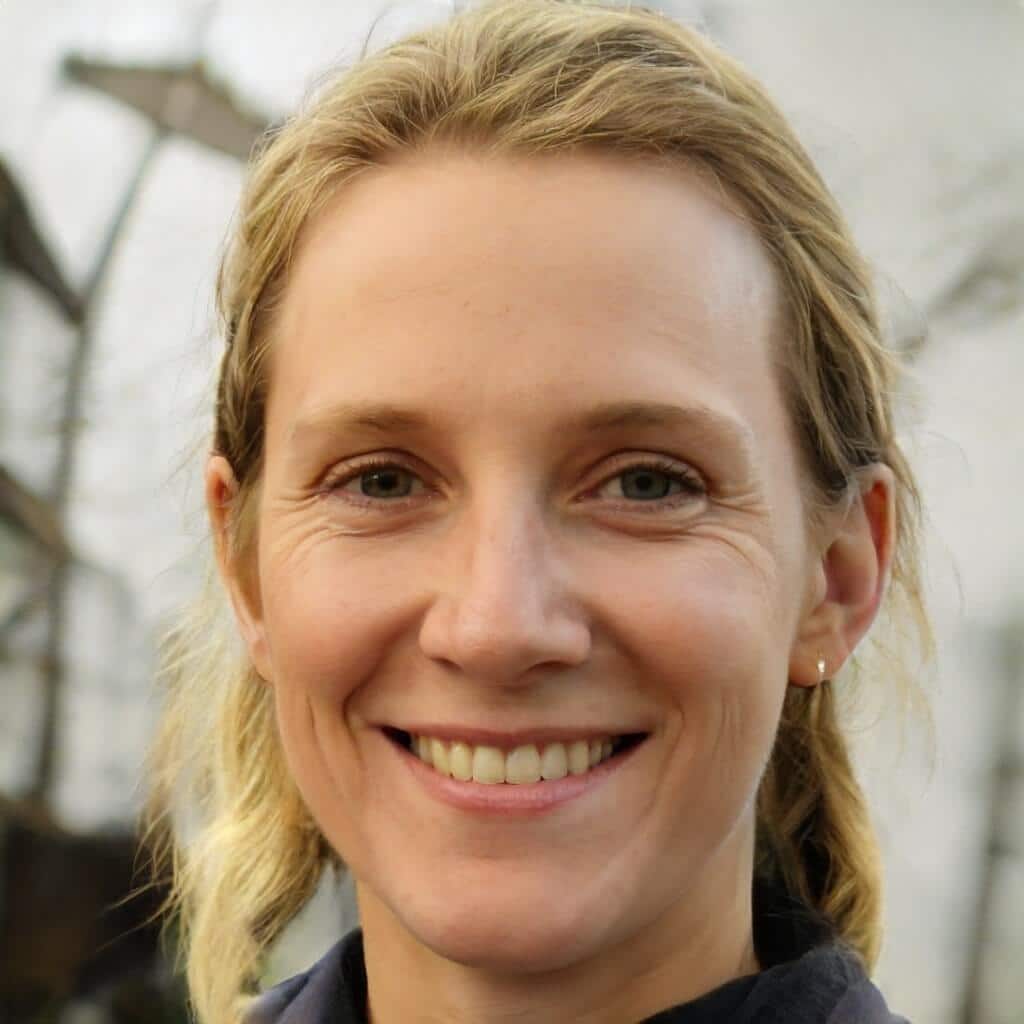 I'm a MA, (CMT) Certified Massage Therapist, Licensed Massage Therapist (LMT), and Reiki Master —  I'm a licensed massage therapist with over 10 years of experience in the industry.