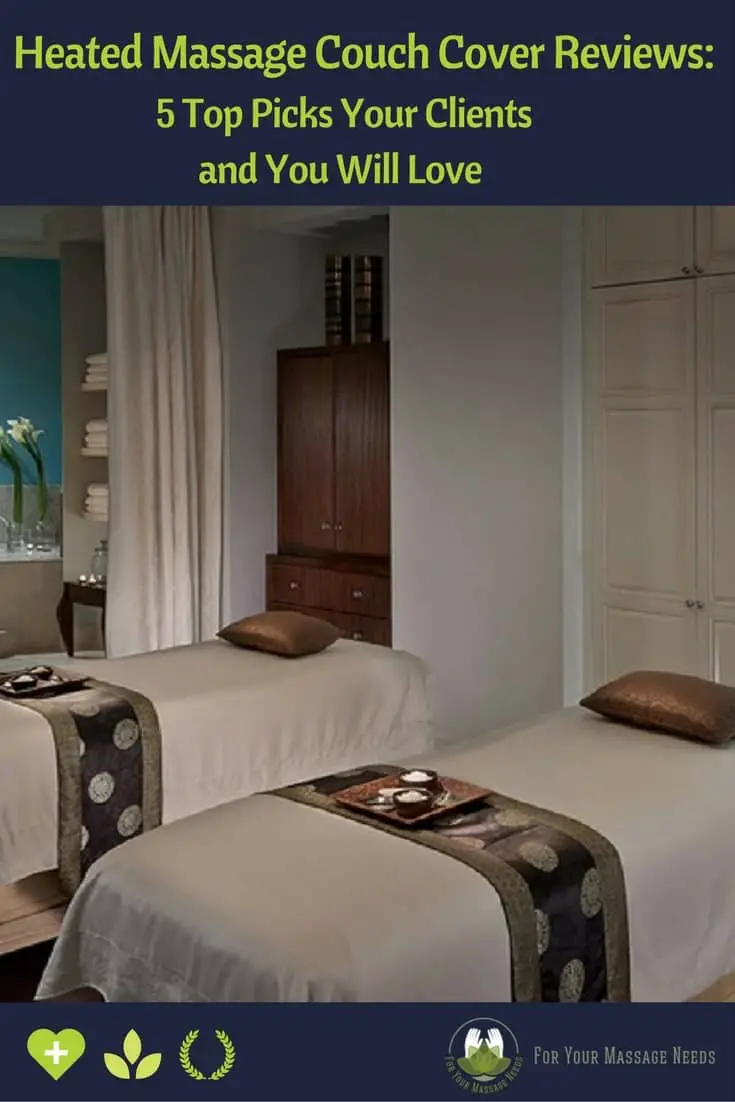 If you're looking for that little extra touch that makes a huge difference to a clients experience then you need a heated massage couch cover.
Couch covers or massage table warmers as they are also called ensure your table is at the perfect temperature before your client hops on.
In this article, I've done the hard work for you and reviewed 5 of the best heated massage couch covers. Take a look and see which one you want to pick up.
5 of the Best Heated Massage Couch Covers: Quick Links
Why Use A Heated Massage Couch Cover?
Even if you work in a warm environment, there is almost certainly going to be a difference in body temperature and your massage table when a client lays down.
Plus, you aren't always going to regulate the room temperature and probably do not want to, right?
If you want the experience to be as comfortable as possible for your clients you need to use a table warmer to keep the table surface ready and not give someone an unwelcome surprise.
If you want to cover all aspects of offering a premium massage service, a table warmer is a must in my opinion.
What to Look for When Choosing a Heated Massage Couch Cover
Don't worry, it's not a complicated process shopping for couch covers. There are a few things to remember when choosing the right cover for your table however, these are:
Make sure it'll fit – It's easy to assume all covers and tables are the same sizes and any cover will fit, but this isn't always the case and it's something you should always double check.
The covers I've reviewed below are around 30″ x 71″, this is what I would call the 'standard' size and tends to fit most tables.
They come with elastic straps to help hold them in place too. So you have a little give on the sizes, but I'm sure they'll all fit your table if you check.
Check the heat settings – You'll notice the covers come with handy little handset units to set and control their temperatures.
I always like to check out what settings and features the warmers have before buying one. Auto switch-off and other safety features are a must.
Quality – Covers aren't expensive so you don't need to settle for anything less than good quality, and neither should you want to.
I've either owned the warmers I've reviewed below, or I know the brand well and have read customer feedback to come to the conclusion that they are quality covers worth the money.
5 of the Top Massage Couch Warmers
Therapist's Choice Deluxe Fleece Massage Table Warmer
Therapist's Choice might be one of the best well-known brands of quality table warmers so you've possibly heard of them.
This is actually the table warmer I use myself so I know it well, and I have nothing but good things to say about it.
It comes with a 12′ power cord which is an important feature as it allows you to plug it in anywhere and not be too concerned about tripping over the cord or pulling it from the wall when moving the table.
It was all the settings and programmable features you'll need, along with an auto cut-off features for that safety peace of mind.
Can't go wrong with this warmer and I'd certainly buy another one when the time comes.
Click Here to See This Table Warmer on Amazon
Oakworks Premium Fleece Table Warmer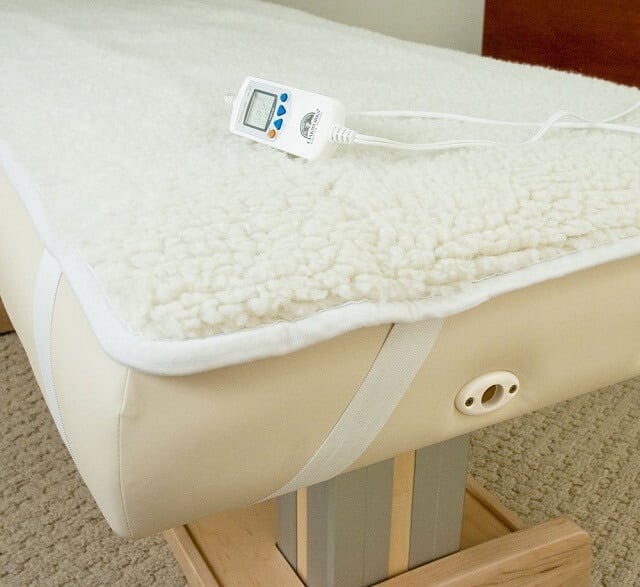 Oakworks is an innovative company that makes a wide range of massage tables in the US. I've used their tables and some of their other accessories and have always been impressed with the quality, especially for the price.
So, it will come as no surprise that their table warmers are highly rated quality products that come recommended by professional massage therapists.
If having a soft, luxurious fleece feeling is high on your list of priorities then this might be the cover you're looking for.
It comes with all the settings you'll need, a good range between 86″ – 130″, and a safety switch off feature. Great feel, look, and functionality, why not take a closer look.
Click Here to See This Table Warmer on Amazon
Royal Massage Digital Fleece Wool Warmer Pad
This Royal Massage warming couch cover has a nice simple and effective design and I first heard about this one when it was recommended to me by a friend.
The handset has a modern look and feel, is fully programmable, and keeps the temperature of your table regulated as well as having some other useful features.
The feel of the fleece is thick and plush compared to some of the other warmers so it's clear Royal Massage set out to produce a cover with a feel you'll remember.
Don't forget couch covers make awesome thoughtful gifts for friends and family with massage tables too!
Click Here to See This Table Warmer on Amazon
Therapist's Choice Standard Massage Table Warmer
Shouldn't be a surprise to see another Therapist's Choice couch warmer as they have a few that are really good and offer excellent value for money.
It's another 71″ x 31″ in size, so it will fit all regular size massage tables easily. Especially as it has some elastic straps to wrap around the corners of your table.
Just like the Deluxe Fleece warmer above it has a 12′ power cord, a handheld timer, and a luxury feel to the finish of the material.
You can set it to heat for 1-8 hrs before it shuts off. It's smooth enough to be placed under massage sheets without being noticed too.
Click Here to See This Table Warmer on Amazon
Earthlite Fleece Massage Table Warmer

Earthlite is another huge company in the massage product space that has always been nothing short of exceptional when it comes to quality and reliability.
I have had one of these before and remember it being nice and soft to touch, the heat distributes evenly, and it warms up pretty quickly.
It has auto over-heating protection, high and low settings, and a 12-hour limit so it'll switch off if you forget about it.
The wires respond to weight, so the warmer will not feel hot if no one has been laying on it. If you have used Earthlite products before you know what to expecet, a quality product that's sure to last.
Click Here to See This Table Warmer on Amazon