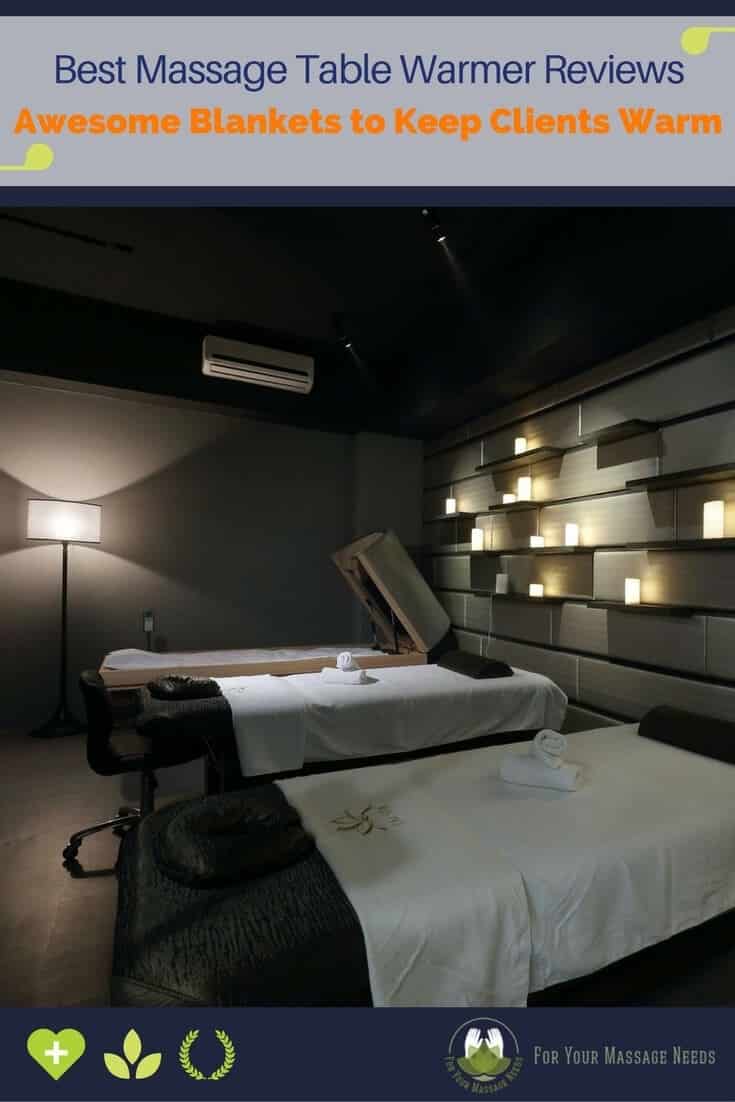 Looking for the best massage table warmer to keep your clients comfortable, warm, and give that extra little touch to your service that makes all the difference?
Massage table pads that warm the couch, or table, cost very little but add a lot of value to your service. If you don't yet have one I can't recommend them highly enough.
5 of the Best Massage Table Warming Pads: Quick Links
Why Use A Massage Table Warmer?
If you've ever hopped on a massage table and it was anything less than room temperature you do not need an answer to this question.
For those lucky enough to not have experienced this, massage table warmers make sure that the massage couch is nice and warm when our skin touches it.
Keeping the room warm only does so much, especially if the client has come in from the cold. Having a nice warm table is very important to the overall experience.
As any massage therapist knows, the ambiance, mood, feel the experience is vitally important.
What to Look for in a Table Warmer
There are a few key areas to consider when choosing a warmer. I've made sure all these are covered in the table warmers reviewed below, they are:
Size and fit – Essential, right. Worth double checking the measurements of your table to make sure the warmer will fit.
As you will see below most warmers are around the 30" x 71" size which fits nicely on most standard size tables.
They also usually come with elastic straps to stretch and hold around tables varying in size slightly.
Heat settings/controls – I'm not suggesting you'd burn a client, but having complete control over the temperature is very important.
Digital handsets are best for setting accurate temperatures, you can even pre-set some and use different client's preferred settings.
I always make sure a warmer has an easy to use handset with all the features and settings I need to control the temp.
Quality/Feel – Again, a massage is about the whole experience so this means being as comfortable as possible.
You'll probably have a sheet on top so you can clean up quickly without getting the fleece dirty, but you need to have a soft warmer to keep your client comfortable.
I've picked the best of the bunch that are made with lush fleece materials or something equally as enjoyable to lay on.
Best Massage Table Warmer: Our Top 5 Picks
Therapist's Choice Deluxe Fleece Massage Table Warmer

This massage table warmer from Therapist's Choice is probably one of the most well known, and highly rated warmers on the market.
I was recommended this model by a friend and use it myself personally. It has a lovely feel, the heat is evenly distributed, and you have perfect control over the temperature.
The 12' power cord means you can plug it in and not have tight cables causing a problem. It has multiple timer settings, reaches a max temp of 88 degrees F, and has an auto cut off for added safety.
This model is used by a lot of the professionals I know so if you're in the market for a quality table warmer, this is one of the best for sure.
Click Here to See This Table Warmer on Amazon
Oakworks Premium Fleece Table Warmer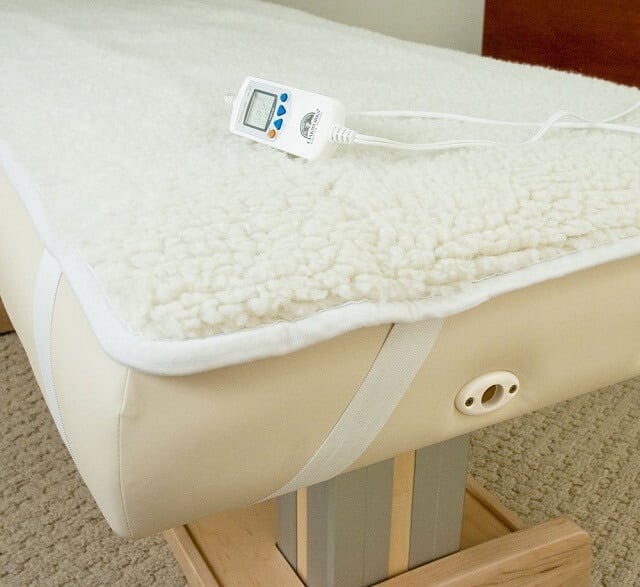 I'm a big fan of Oakworks products. I've used their tables and some of their other accessories and don't have a bad word to say about them as a brand.
This fleece is lovely and soft, making it a comfortable addition to your table as well as serving the purpose of warming up the table (and client).
The heat settings range from 86" to 130". Pretty hot, so keep control on this warmer so not to give someone a little more than they expected.
It heats up quickly and distributes the heat evenly. Comes with a safety shut off, and you have some nice settings and features to make the most of on the handheld controller.
Click Here to See This Table Warmer on Amazon
Royal Massage Digital Fleece Wool Warmer Pad

This fleece wool warmer model from Royal comes with five different temperature settings and a handheld controller for ease of use.
It has elastic straps on the corners to wrap around the table. And as a safety feature it will automatically switch off after a set time period or if it starts to overheat.
The fleece has a generous thickness and I've read a lot of people use this product for general table or bed warming.
Certainly worth a closer look and how it stacks up against the other warmers, some pros, and cons to consider but a quality product nonetheless.
Click Here to See This Table Warmer on Amazon
Therapist's Choice Standard Massage Table Warmer

Another table warmer from Therapist's Choice, one of the market leaders when it comes to table warmers for massage therapists.
It's the standard size of 71" x 31" with elastic straps to ensure it'll fit just about any size massage table and hold on tight against all surfaces.
With five temperature settings and four timer settings, you have enough control to find the perfect temperature for your clients.
I love how these blankets from Therapist's Choice come with long 12' power cords too. It'll easily reach the table, and everything looks and feels like top quality.
Click Here to See This Table Warmer on Amazon
Earthlite Fleece Massage Table Warmer

Earthlite is another huge company in the massage product space that has always been nothing short of exceptional when it comes to quality and reliability.
I've used this table warmer and confirm it's incredibly soft and luxurious to touch, and the straps hold it in place on any table.
It has auto over-heating protection, high and low settings, and a 12-hour limit so it'll switch off if you forget about it.
The wires respond to weight, so the warmer will not feel hot if no one has been laying on it. A nice touch, and a quality product that's worth a considering if you're in the market for a massage table warmer.
Click Here to See This Table Warmer on Amazon