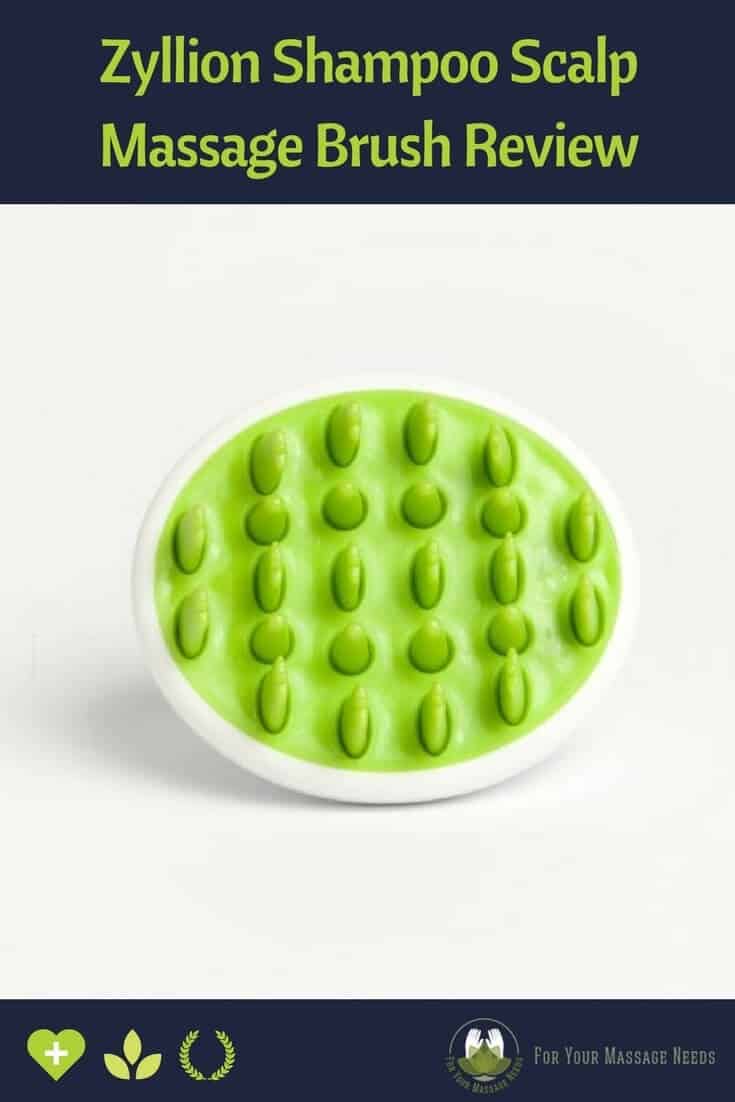 A massage tool that you may not have heard of is a shampoo scalp massager. I started using one 6 months ago and I've been impressed with the look and feel of my hair since I started using one.
It's a great way to treat skin conditions, strengthen your hair, reduce dandruff, and leave your hair feeling and looking awesome.
All by just massaging your scalp for a few minutes while you're shampooing your hair. The brush I've been using is the Zyllion Shampoo Scalp Massage Brush, so I thought I'd cover the pros of this model.
If you want to know more about shampoo scalp massagers and the health benefits of using them, read on.
Click here to buy this Zyllion brush on Amazon
What Is a Shampoo Scalp Massage Brush?
If you've just come across shampoo massage scalp brushes and wondering what they are exactly and what they do, I can explain.
The design of these scalp brushes is always very similar. They are handheld brushes, usually circular as that makes it easier to massage the scalp, and have rubber bristles.
Some have batteries to aid the massaging motion. They are designed to be used while shampooing your hair, although most are not 100% waterproof so you shouldn't submerge them.
Why Use a Shampoo Scalp Massage Brush?
Here are some of the benefits of using a scalp massaging brush while shampooing your hair:
Exfoliates – Massaging your scalp exfoliates your scalp. This means you're removing dead skin cells, dandruff, excess oil, dirt, and other debris built up on your scalp.
This makes it easier for healthy hair to flourish. It gives your hair a 'fuller' feel and look, extra shine, and reduces any itchiness you might have had.
Stimulates hair growth – Anyone who starts losing their hair or has patchy hair look for ways to repair and stimulate more growth.
There is no miracle cure, despite what a lot of expensive products may say. But there are some things you can do that make some difference.
Simply massaging the scalp is one of the know ways to make a difference, and it's one of the benefits of using a scalp massager on a regular basis.
Relaxing – It's no secret I talk about how relaxing and beneficial massage is for your mind, body, and soul on this blog.
While using a shampoo scalp massager is not as relaxing as a 60-minute Swedish Massage session, it's still a great way to destress and it leaves you feeling great.
Stimulates blood circulation – Massaging your scalp increases the amount of blood flow which has a number of benefits.
Firstly, it's sending more nutrients which is what your hair wants and needs to strengthen and grow faster. It can also reduce dandruff and other skin problems, and it reduces itchiness.
Zyllion Shampoo Scalp Massage Brush Review
Click here to buy this Zyllion brush on Amazon
I like the design of the bristles on the Zyllion ZMA-12 brush. As you can see from the image they alternate in direction, which gives you a great massage as you use it in a circular motion.
They are also surprisingly soft. So don't worry if you have a sensitive scalp, it's very soft to use and doesn't feel like it's dragging across your scalp.
The bristles are long enough to get through long or thick hair too. It's surprising what comes off your scalp the first few uses, don't be alarmed it's a good sign!
There isn't much to say about the rest of the design so I'm not going to over-do it. It's easy to hold, very solid, and does exactly what it's designed to – massages your scalp.
It's so easy to add a scalp massage to your bath or shower routine it makes sense. The look and feel of your hair afterward make it worthwhile.