Choosing a massage table is one of the largest decisions and financial investments a therapist will make. Power lift massage tables are the best option if budget allows. If you need to travel with a table you need a portable, lightweight table. But if you are using your table in a spa or therapist room then a hydraulic or electronic table is by far the best option.
With power tables you can easily control the height of the table, the head position and any other options the particular table offers. All from a handy foot or hand control. Anyone who has to adjust the legs on a wooden or aluminium can attest to how annoying it can be. So picture this – you can change the table height with just a click of a button.
There are a few things you need to be aware of when looking for the best electronic table offering good value for money. In this article I will highlight 5 of the best options on the market. Take you through the things you need to be aware of, and I'm sure you will make the perfect choice for your business.
Power Lift Massage Tables Reviews: 5 of the Best
Echo Elite Professional Oversized Powerlift Electric Massage Table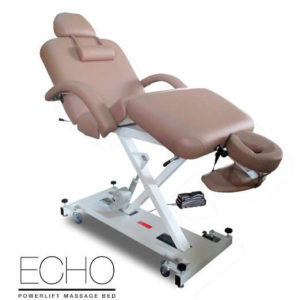 Of the power lift massage tables I'm reviewing in this article this is possibly the most luxurious. If your budget stretches to this model from Echo, you are going to be very satisfied with the table.
The 3″ cloud foam cushioning is a very welcome surprise when a client first rests on the table. It's controlled via a foot pedal and with head rests on the both ends of the table and an arch in the middle it's a versatile solution to all forms of therapy.
The upholstery is high quality and easy to wipe clean. You can massage, tattoo, carry out beauty treatments, this table is at home in any spa or therapists room.
Specifications – Width: 30" Length: 72.5" Height Range: 20.8" – 39"
The table weighs 160 lbs, and the lift capacity is 420 lbs.
Body Choice Classic Power Lift Massage Table
This classic power lift table from Body Choice has a classic design, with a modern range of features. It's operates quietly, and has a high-quality electric actuator that allows you raise and lower the table quickly and across a wide range of motion.
The memory foam pillow and ergonomic head rest round off the basic features of this table. I like memory foam pillows as they allow the pressure in the face to be distributed and are the most comfortable material.
The PU-leather upholstery is a popular material for massage tables as its easy to clean and doesn't tear or scratch easily. This is a very reasonably priced table, and certainly offers one of the best value for money options.
Specifications – Width: 30" Length: 73", or 85″ with headrest.
The table weighs 145 lbs.
Best Massage Tables Physical Therapy Power Lift Table
This hydraulic table from Best Massage Tables is a modern looking, quality table. You can raise and lower the table by using the foot pedal at your convenience.
It has 3″ thick padding all round as is the standard for quality tables. It uses a small-cell foam to provide maximum comfort to clients, while being long-lasting and strong.
This tables does what you want from an electric table and it does it well. It offers a good range of motion and the motors move quickly and quietly. So minimal disruption to you and your clients.
Specifications – Width: 30" Length: 73", or 85″ with headrest.
The table weighs 115 lbs, and the lift capacity is 2,400 lbs.
Body Choice UltraFlex Deluxe Electric Massage Table
The UltraFlex Deluxe table has a range of motion between 16″ and 35″, making it one of the more adaptable tables on the market. You control it with a touch of the pedal and it quietly and smoothly raises and lowers.
The table comes complete with an ergonomic headrest and a memory foam face pillow. You can easily move it around your room with the front wheel and a little tilt and push. There is also a removable neck bolster and adjustable arm rests.
The table raises and lowers in the all the right places to give clients the smoothest postilion experience and you the easiest when you're treating them.
Specifications – Width: 30" Length: 75", or 87″ with headrest.
The table weighs 147 lbs, and the lift capacity is 470 lbs.
Power Lift Electric Massage Chair and Table
This model is a classic power lift table. It has rounded corners and a contoured midsection to give clients a comfortable experience. The 3″ multi-layered foam wrapped around the metal frame combines sturdy with comfortable.
The cream colored PU-leather gives this table a modern and clean look and feel. The material is oil and waterproof, and resistant to scratching or marking. Just wipe down at the end of the day and it's as good as new.
It has four wheel as opposed to two like other models. You can easily moved it around the room and lock in place when needed. The power lift system makes carrying out therapy treatments a breeze.
Specifications – Width: 30" Length: 73", or 85″ with headrest.
The table weighs 120 lbs, and the lift capacity is 470 lbs.
What to Look for When Buying an Electric Massage Table
How Noisy the Table Is
You want your electric/hydraulic table to be as quiet as possible when being used. A lot of manufacturers will say their table is 'silent' when in operation. This doesn't always mean it's actually silent. Try and read some customer feedback that confirms just how noisy the table actually is.
How High and Low the Table Goes
The total range of motion is another feature that varies greatly from product to product. Consider what you're using the table for. If you have patients with a short range of motion make sure the table lowers close to the floor.
How Fast the Table Is
Try and find out how fast the table moves. Of course you're not trying to win any races. But some tables are painfully slow and can be quite disappointing.
What Features the Table Has
If your budget allows, go outside of just the basic massage table. You can get some useful features like leg extensions, arm rests and head rests. Even cupboard space underneath and different speed settings. All tables are not created equal. If you want a table with extra thick padding for example check out the Oakworks hydraulic massage table.
How You Control the Table
Older models used a hand control, or even buttons on the side of the table. It's more popular, and easier to use foot controls in my opinion. Look for either just foot controls, or foot and hand.
What Kind of Warranty the Table Comes With
Power lift massage tables are not cheap. If you're spending several thousand of dollars you want to know you're getting a good warranty. You always will in my experience, but make sure you're aware of the terms.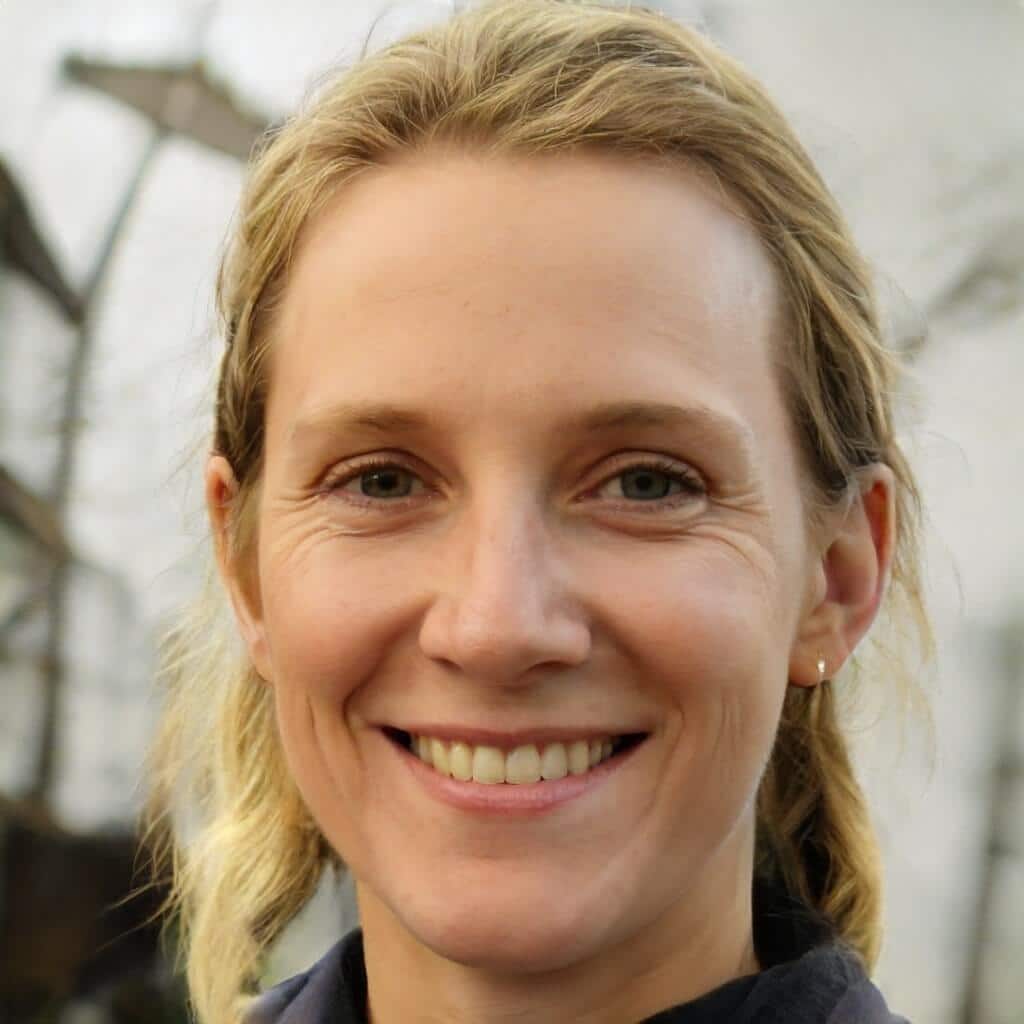 I'm a MA, (CMT) Certified Massage Therapist, Licensed Massage Therapist (LMT), and Reiki Master —  I'm a licensed massage therapist with over 10 years of experience in the industry.