Aiho have a range of wonderfully designed diffusers at really affordable prices. Proving you don't have to buy a diffuser from one of the large brands to get a sleek looking unit that has all the features you want.
I recently picked up this model called the Deik. It's a 200ml diffuser, so I'd call that medium sized diffuser and has some cool lighting effects and timers as I will explain.
Aiho Essential Oil Diffuser Review 200ml Deik
The interesting thing about the Aiho is that it runs for around 8 hours, which from a 200ml bin is pretty impressive. You can set timers too so you don't need to switch it on and off.
One of the cool features that separates this model from most of the others is the glass outer shell. The glass has a swirling pattern, and as you can see from the pictures it gives the lighting effects a tiered glow.
Talking of lights, there are 7 different LED lit colors to choose from. You can use it as a mood lamp along with the essential oils of choice to suit your mood.
Try a soothing blue light while diffusing some lavender to promote better sleep. Or, some Clary Calm with a purple light would work well. It's a fun concept and you change the brightness too.
With Christmas approaching as I write this, this Aiho diffuser is a perfect gift idea!
How Long Does the Aiho Run For?
The Aiho runs for around 8-10 hours from full if you leave it on continuous mode. I like how it has the 1, 2, and 3 hours timers too so you can set it for however long you want.
It has a safety switch off feature anyway so you don't need to worry about it from a safety standpoint. It will switch off when the water reaches a low level.
What's in the Box?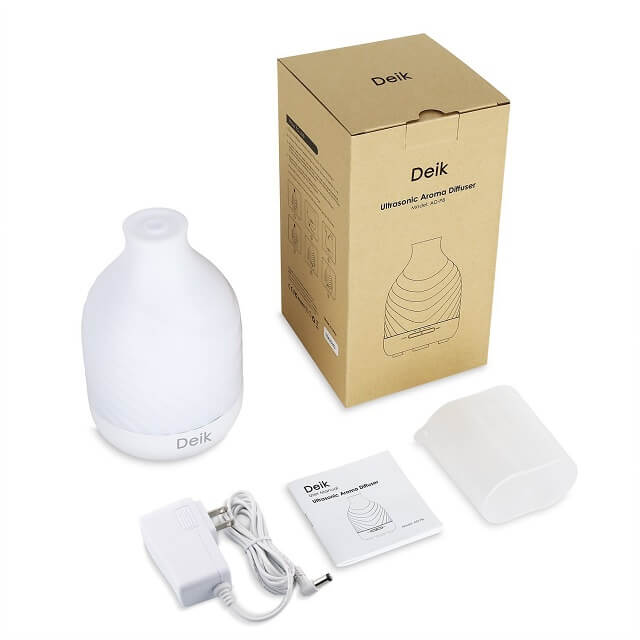 In the box you will find the following:
1 x Deik Model: AD-P10 essential oil diffuser

1 x Power adapter

1 x Filling jug

1 x Instruction booklet (with multiple languages)
Everything came wrapped up in plastic and had some spongy padding so it was safe in transit.
Aiho Diffuser Instructions and User Guidelines
You will receive an instruction booklet with your diffuser. For those who may have lost it or want to know how to use the there are a few simple steps:
Place the diffuser somewhere it's going to be safe from being knocked over.

Plug the power adapter in (goes underneath the unit).

Pull the glass casing off by lifting it up.

There is an inner plastic top to remove too the same way.

Using the filling jug add up to 200ml of water.

Add your essential oil (see this post for how many drops to add).

Replace both of the covers.

Switch on at the mains.
Once you're ready to turn it on there are two buttons on the front of the unit, here is what they do:
Light – The different colors you can toggle through are really cool and look great shining through the glass outer case.
Press the light button to turn on the lights, press again to start the colors changing, and press again to set at your favorite color.
Mist – Press the mist button once to turn on the device. You can then keep pressing the button to toggle through 1, 2, and 3 hour timers.
Don't worry about leaving the diffuser on continual mode, it has an automatic switch off function if the water level gets too low. You can also switch it off at any time by holding the power button in.
In Summary
I had not heard of Aiho before using this diffuser so I've been looking into their brand a little more and they have an awesome range of diffusers and clearly take diffusing very seriously.
I've spoken with a spokesperson for their brand too and I have to say they are very polite and helpful. With so many diffusers on the market it's hard to know where to spend your money. Well,  you will not be disappointed buying the Aiho Deik.
This model does the same thing as much more expensive models, and actually looks a lot better than most other diffusers with it's multi-color option and the nice glow the glass outer casing gives it.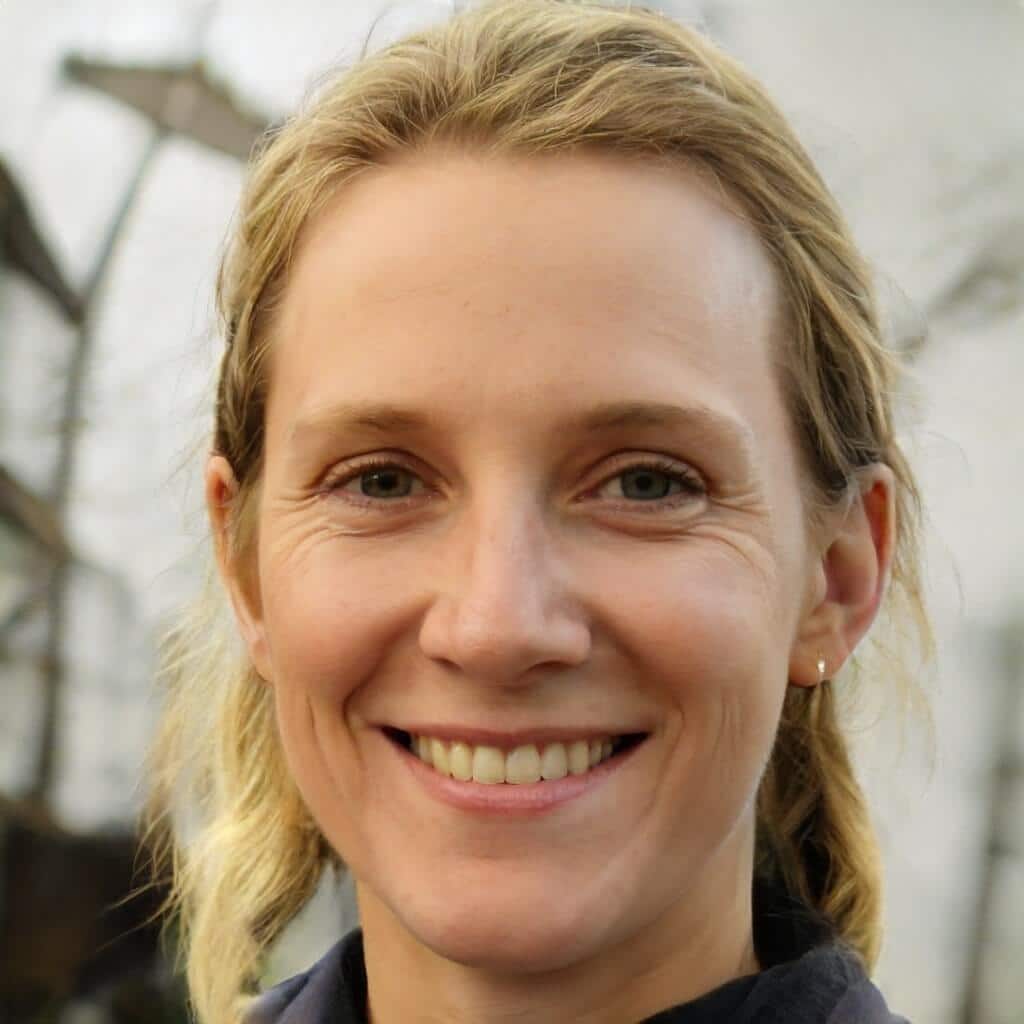 I'm a MA, (CMT) Certified Massage Therapist, Licensed Massage Therapist (LMT), and Reiki Master —  I'm a licensed massage therapist with over 10 years of experience in the industry.