Most of us spend far too many hours a day seated. I'm as guilty as anyone one else. My typical day involves a commute and several hours in an office. As well as sitting in the evening, working, watching TV, etc.
Using the best lumbar support for car seats can make a huge difference to how your back feels and how comfortable you are while driving.
Two of the Main Reasons for Back Pain and a Need for Lumbar Support
Being Sedentary and Not Moving for Long Periods
The increase in sedentary lifestyles has been well documented of late and there is a lot more awareness to the health issues associated with it. Exercise and being active is all well and good, but if you have a long daily commute the only thing you can really do is use some lumbar support to lessen the pain.
Sitting or standing for long periods locks up our backs into bad positions and causes aches and pains. Using the right type of support helps to correct the position of the spine and lessen the pain.
Having Bad Posture and Bad Habits
Having bad posture is possibly the most common cause of back pain. It's not always out faults. Chairs are not always well designed and they can cause, or at least not help bad posture.
You have less freedom to make adjustments to a car chair than an office chair. We often just put up with the posture and position as long as we're in a comfortable driving position.
How Effective is Lumbar Support?
Relieves Tight Muscles and Eases Pain
Anyone who sits in a car for hours on end will know what the pain feels like. It's horrible, and can last for days. A good lumbar support stops this pain from happening, that's money well spent whichever way you look at it.
Without a support your back will be straining in a bad position and the muscles tighten up and the bad position will be harder to break.
Relieves Pressure on Your Spine
Pressure is a contributing factor to back pain. Without support or a chair designed to correct your posture, you're going to be sitting in a bad position. This adds to the pressure on your back and worsens the pain and discomfort.
Forces You to Align Your Back Better
The alignment of car chairs are not ideal. The manufacturers often favor looks and plush fabrics to positions that are beneficial to to your back. While lumbar supports are designed to provide the perfect alignment for your back in any chair.
What Different Types of Support Are There and Which Work?
The good news is that there aren't that many different designs to choose from. There are a lot of different models, and I will go through the pros and cons and help you find the best lumbar support for your car seat in this article.
It's the material the supports are made from that makes the most difference. The main two materials are plastic, or memory foam. The main differences are as follows:
Plastic Supports
Plastic lumbar supports are usually less expensive than memory foam. They are very firm, and can feel uncomfortable to use at first. They are durable and will not damage easily, making them a good choice for value.
Memory Foam
Memory foam supports are more popular and offer a greater level of support. The foam works with the contours of your body to offer a greater level of support than plastic.
They are typically a little more expensive than plastic but well worth the money in my opinion. Supports aren't expensive in general, so putting your safety and health first is worth a few extra bucks.
Reviews of the Best Lumbar Support for Car Seats
Back and Neck Cushions from Love Home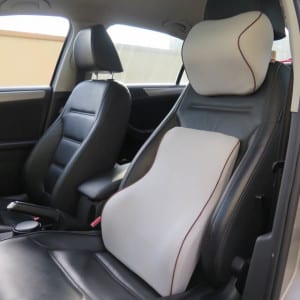 The Love Home back and neck cushion combo for cars is a premium product that offers high-level support. It's a complete product that realigns your back, and supports your neck. Perfect for people with long commutes and time behind the wheel.
It's made from memory foam, which as I spoke about earlier will mold around the contours of your body to offer excellent support. You even have a choice between three colors for the mesh cover. So if coordinating the cushion with your car trim is important, they have this covered.
The neck cushion straps to your head rest comfortably, and the back support sits in place on the seat. This is a luxury upgrade to any car seat, I recommend checking it out if you suffer with any back pain at all.
Top Rated Lumbar Support from BackGuard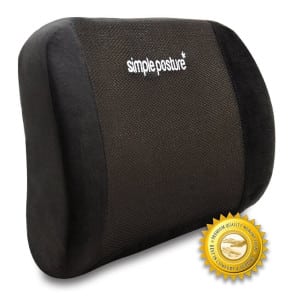 I have reviewed this cushion in detail before on the blog as I have it and think it's a wonderful product. It's a small and light lumbar support so you can take it with you when you leave the car too.
It's cleverly designed to match the curve of your spine. Or at least the position a healthy spine should be in with good posture. It's made from high-density memory foam, so it offers good support and adapts to every individuals own body shape.
Memory foam does suffer from retaining heat and can be uncomfortable for this reason. This cushion has a mesh on the outer fabric to allow it to breathe which helps keep it cooler than a block of memory foam.
Adjustable Lumbar Cushion from Desk Jockey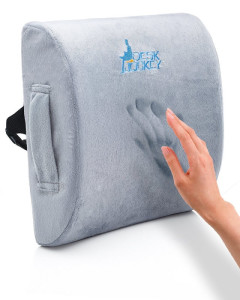 The Desk Jockey is one of the best-selling lumbar supports on the market and is commonly used in offices and cars. It has a velour cover and is very soft and plush to touch.
It has an adjustable strap to fix it round any chair. Be it at home, in the office, or your car. It's easy to move too, so I'd suggest using this in your car and then taking it into your office with you if you sit for long periods.
It's one of the less expensive lumbar supports and comes with a 100% money back guarantee. So it's a good product to start out with and see if it makes a difference to your back. If you're not satisfied, you can send it back for a refund.
Memory Foam Cushion from ERGO-Pedic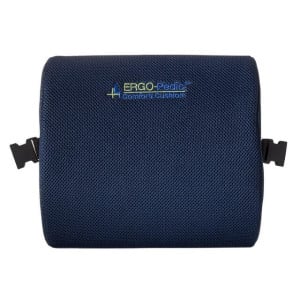 This ERGO-Pedic lumbar support is made from high-quality memory foam. It offers good support for your back and is light and portable so taking it with you when you're traveling is a breeze.
It has a mesh cover to help regulate the temperature and it's removable so you can wash it. The strap has a buckle and is adjustable, so you can fix it to any size chair with ease.
It's on the firmer end of the scale so it's recommended for people suffering from a little back pain already. It will help relieve the pain and start to correct your posture. Just fix it into the car and let it do all the work.
Memory Foam Lumbar Support from Go Active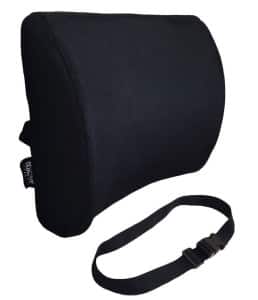 This product from Go Active is another ergonomically designed lumbar support that will make a difference to your position when you're driving. As well as lessening the pain your feeling in and out of the car.
It's memory foam with a ventilated mesh cover. So it can breathe and keep cool. This is very important in the summer months as a hot car is uncomfortable enough without a hot lumbar support.
It's better suited than other models on larger car seats. It's a wide support, so if you've tried a different brand before and found it too narrow compare the width to this one.
Wrapping It Up
There you have it. 5 of the best lumbar supports for use in your car while driving, each of them will do wonders for your posture and help reduce pain and correct your seated position. It comes down to personal preference on the choice of material and feel. I'd suggest memory form in most instances, but they do retain heat so if keeping cool is a priority then look at the harder plastic versions.
Using these types of support are affordable and easy ways to make an actual difference to your health. I really do recommend giving one a go. I'd love to hear from you if you already use one, of pick one up after reading this article. Feel free to drop me a message!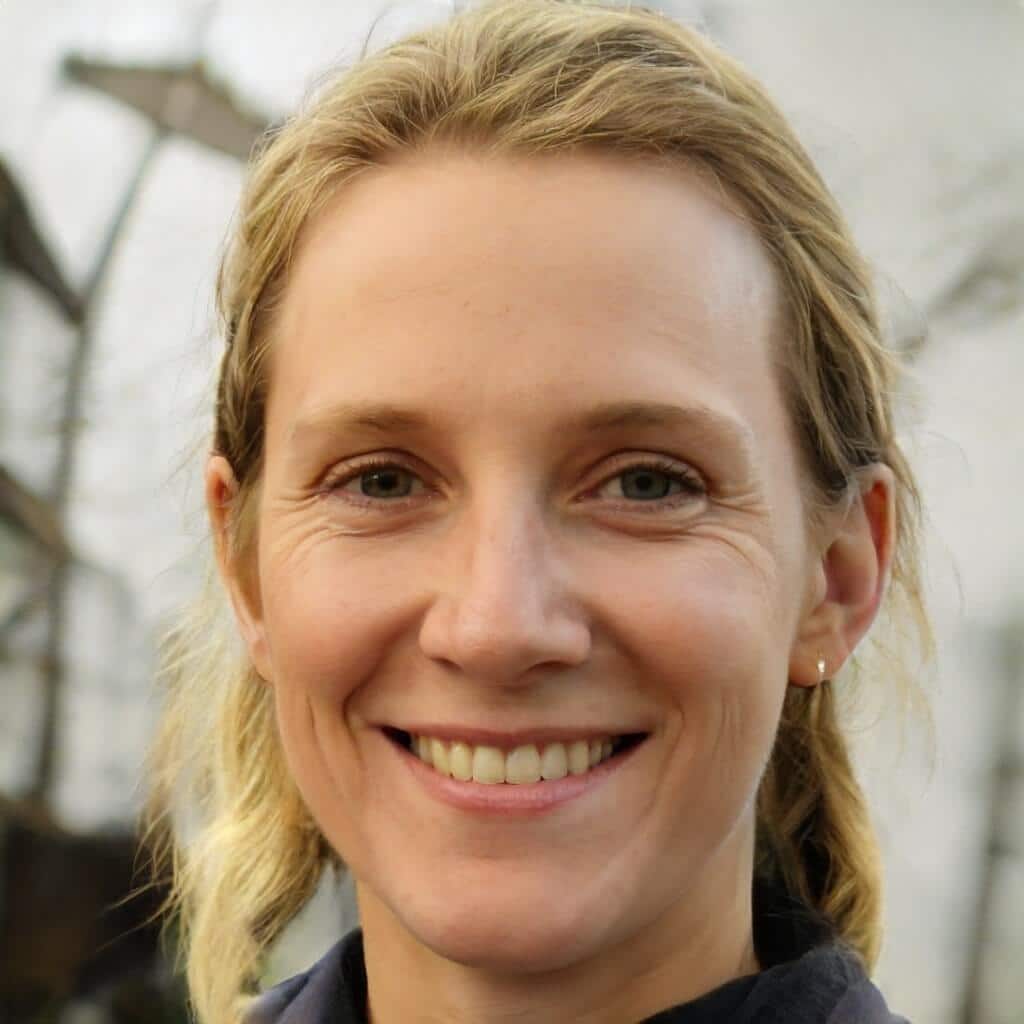 I'm a MA, (CMT) Certified Massage Therapist, Licensed Massage Therapist (LMT), and Reiki Master —  I'm a licensed massage therapist with over 10 years of experience in the industry.